Description
Cycling Bibs Women
Fabric:
8020 Lycra: Main Panel
HX5979: Leg Opening
High stretch polyester jacquard mesh: Braces
Auxiliary:
1. Sewing Punching Women Padding Chamois
2. Hi Vis Reflective Piping
3. MONTON brand PVC
4. MONTON size label
5. Care Label
Features:
1. 8020 Lycra on main panel (Great stretch to give a compression embrace on muscle to relieve muscle fatigue. )
2. In accordance with ergonomics, snug fit with no restrict to movement.
3. Padding: breathable, wicking, anti-bacterial, anti-fungal. Surface with punching foam to increase breathability while padding with high dense foam to give comfortable support.
4. Braces: stretch mesh with Lycra edge binding cover tape.
5. Sewing: Three-needle five-threads sewing to ensure a durable structure and decrease the friction between fabric and skin.
2017 RACE Bibs for Women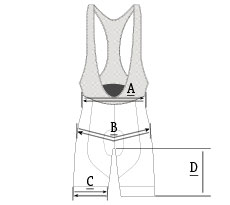 Monton Cycling Bib Shorts Size Chart
A: Waist (Side Seam to Side Seam)
B:Hip (V shape measurement)
C: Leg Opening (Lying flat, side seam to side seam)
D: Inner Width
Lycra
High dense foam chamois
High Stretch
Measured with shorts Lying Flat
Cycling Bib Shorts Size Chart
XS
S
M
L
XL
XXL
XXXL
A/Waist
/
58/cm
62/cm
66/cm
70/cm
74/cm
/
C/Opening
/
34/cm
35/cm
36/cm
37/cm
38/cm
/
D/Inner Width
/
18.5/cm
19.5/cm
20.5/cm
21.5/cm
22.5/cm
/
Ready stock ship from penang
Package included 1 x women bib